A Young Person's Guide to Vocal Health
My Voice Matters Series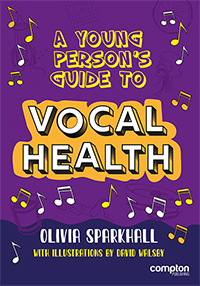 April 2023
56 pages
ISBN 978-1-909082-71-7
Paperback
7x10"
Price £14.00
Pack of 5 copies £55
If you want to maintain a good, healthy speaking and singing voice, then it is essential that you keep your voice box in good working order.
Here is a simple guide to help you understand what's good (and what's bad!) when looking after your 'vocal instrument', and how you can keep your voice in great shape.
It shows you the best ways to maintain good vocal health and how to avoid or deal with problems like colds and sore throats, shouting in sports halls, overuse, poor diet, hormones, anxiety and, yes, smoking, drinking alcohol and using drugs!
Ideal for singing teachers and choir leaders in engendering good vocal habits in young people.
My Voice Matters Series
Series Editor: Olivia Sparkhall
The My Voice Matters series features short, readable books targeted at young people who want to get the most out of their voices.
Good vocal habits need to be encouraged and ingrained from an early age. It is alarming how many young people develop easily avoidable voice problems due to a lack of understanding, or poor instruction from adults who have received little or no training themselves in this area.
Under the editorship of acclaimed choral leader, singer, teacher and composer, Olivia Sparkhall, books in the series aim to provide the essentials for young singers (and their teachers and parents!) with non-technical, easy-to-read, clear and accurate information, supplemented with illustrations, hints and tips, and practical guidance for managing such issues as vocal health (this volume); and others, under consideration, including CCM singing; choral singing; classical singing; musical theatre; performance anxiety; vocal technique; vocal warmups, exercises and warm-downs; the female voice; the male voice.
Olivia Sparkhall MA, PGCE is a voice specialist with a particular interest in helping young people to reach their vocal potential. She read for a Masters in Voice Pedagogy and has since had articles published on vocal warm-ups for children, choral music written by women, and composing for the community.
She is a teacher at Godolphin School, Salisbury, UK, where she directs the award-winning Godolphin Vocal Ensemble. In demand as a vocal workshop leader, Olivia has worked with many young choirs, and conducts massed children's choir concerts for the charity, Barnardo's.
An acclaimed composer, Olivia is published by Banks Music Publications, Encore Publications, and Chichester Music Press, as well as being part of the series research and editorial team for the Multitude of Voyces CIC Sacred Music by Women Composers set of anthologies.
IMAGE Credit Ash Mills