The Accent Method
a rational voice therapy in theory and practice
Kirsten Thyme-Frøkjær and Børge Frøkjær-Jensen
REISSUED AND EXPANDED EDITION - PLEASE NOTE THAT THIS IS A REPRINT OF THE ORIGINAL, 2001 EDITION WITH AN ADDED CHAPTER ON STUTTERING THERAPY.
About the book
The book opens with a discussion of the historical development and the principles of the Method. Thereafter, the anatomical, physiological and acoustic principles of breathing, phonation and articulation are covered, drawing together both detailed and summary information from a multitude of sources into a single, convenient and relevant presentation.
The authors consider, among other things, basic scientific research on the Bernoulli effect, the myoelastic-aerodynamic phenomenon of vocal development as a central building block in voice therapy, the structured training of abdominal breathing and proper phonation, as well as aspects of vocal register and the mechanisms of pitch and loudness modulations.
Practical information on exercise routines is accompanied and illuminated by more than 60 clear illustrations, and on an accompanying CD, demonstrations of all the breathing and relaxation exercises – from slow exercises in Tempo I, to faster exercises in Tempos II and III.
The final section includes a description of the scientific objectives and results before and after treatment, using instrumental studies to prove the effectiveness of the method, and to ensure quality assurance.
The Accent Method is a holistic program that is both rational and systematically developed, making it easy to learn and to employ – both theoretically and practically. Whether adopted for functional or organic voice and speech disorders, articulation, breathing, or stuttering and dysfluency, it has been proven to improve vocal function and thus voice quality, as well as articulation and thus speech intelligibility.
The content of the book is invaluable to otolaryngologists, voice and speech therapists, voice and singing teachers, singing and voice performers.
Contents
List of Figures
List of Tables
Foreword by Margaret Gordon
Foreword by Sara Harris
Preface
Part I: History and Principles of the Accent Method
Introduction
Historical Aspects
Main Principles of the Accent Method
Part II: Anatomy, Physiology and Acoustics of
Phonation
Respiration
The Larynx
Phonation
Articulation
Part III: Teaching the Accent Method
Breathing Exercises
Relaxation Exercises
Voice Exercises
Drum Exercises
Transition from Voice Exercises to Speech
© Copyright Compton Publishing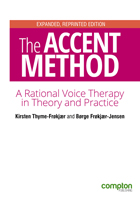 January 2021. 200 pages approx. Illustrations. 7x10"/ 254x178mm. ISBN 978-1-909082-49-6.
Price £40.00