TEAching Singing to Children 2ed prepublication offer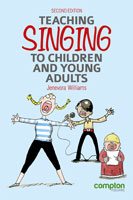 In the few short years since publication Teaching Singing to Children and Young Adults has become something of a classic. It remains the only serious book on the topic, with the art of singing matched by the science. So, here is the new edition, with even more exercises, fully revised and updated throughout, and now on offer to you at a prepublication discount of only £22, versus the published proce of £27.50. But hurry, the book is due for publication in May 2018!
To view more, click on the jacket.
To order CLICK HERE
© Copyright Compton Publishing