ACT for Musicians
Enhancing Performance with
Acceptance and Commitment Training
David G. Juncos and Elvire de Paiva e Pona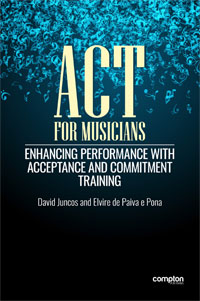 November 2021
320 pages approx
ISBN 978-1-909082-66-3
Paperback
7x10"
Price £55.00 approx
Conversational, practical and straightforward, this book introduces acceptance and commitment therapy (ACT) as a clinical anxiety treatment and performance enhancement program for musicians and their teachers and coaches.
As a profession, musicians suffer from mental health problems more than others. According to a 2016 pilot survey by Gross & Musgrave of 2,211 professional musicians from the UK, 71% reported they suffered from panic attacks/high levels of anxiety while 69% reported they suffered from depression, Further, 53% of professional musicians reported it was hard to find help, and that 55% believed there are gaps in the provision of services for musicians. A 2012 survey of 377 orchestral musicians by Kenny et al. in Australia, showed that 33% met criteria for Social Anxiety Disorder, a rate three times the national average in Australia. They also reported musicians often rely on colleagues for help, rather than mental health therapists or other health care providers where it is difficult and time-consuming to find someone who is qualified to help musicians, and when help is provided it is often unhelpful, with an over-reliance on unwanted or expensive help, like pharmaceutical solutions.
Written by a clinical and performance psychologist and a professional singing teacher and vocalist, this practical, evidence-based book addresses the issue of performance anxiety and other factors affecting well-being - including pain and injury, stress and burnout, low motivation, self-criticism/shame - in musicians and introduces acceptance and commitment therapy (ACT) as a clinical anxiety treatment and performance enhancement program. Written in a conversational and straightforward manner, the book introduces ACT and the research supporting it, and gives detailed and proven step-by-step instructions and exercises on how to apply ACT to common problems faced by musicians at all levels.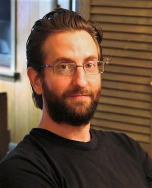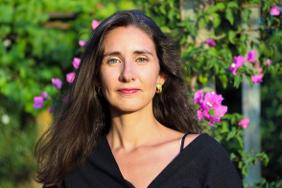 David Juncos, PsyD, is a clinical psychologist and performance coach with Hornstein, Platt & Associates, Counseling and Wellness Centers, in Philadelphia, PA. He eared his doctorate in Clinical Psychology from La Salle University in 2015. He has over 15 years' experience in treating a variety of clinical problems, including anxiety, mood, and substance use disorders. He specializes in the treatment of music performance anxiety (MPA) and has presented internationally on his research in using Acceptance and Commitment Therapy (ACT) to treat MPA and enhance music performance. He also is on faculty with the Voice Workshop, a UK-based provider in postgraduate Voice Pedagogy study. There he provides lectures and tutorials on MPA and quantitative research, and he trains music teachers in a non-clinical version of ACT to help them manage students' MPA.
Elvire de Paiva e Pona, MA, is a classically trained singer who earned her Master's degree in Vocal Performance from Anton Bruckner University, in Austria. She has performed internationally for over 10 years, singing in operas and concerts ranging from classical to French chanson. She is a passionate singing teacher with additional degrees in Psychology and Vocal Pedagogy. Based in Vienna, she teaches individual and group singing lessons and facilitates music classes for young children. She first learned about Acceptance and Commitment Therapy (ACT) as a Master's student and experienced great benefit incorporating it into her life as a musician. She went on to write her thesis on using ACT to enhance music performance and teaching, and after graduating she co-authored an article with David Juncos on using ACT as a performance anxiety treatment and performance enhancement method for musicians. She currently uses ACT in her music lessons to help enhance students' performance and well-being.